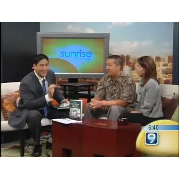 Steve Uyehara talks to Evan and Kari Leong on the morning program Sunrise about their business, inspiration behind helping the community, and their new book, The Greater Good: Life Lessons from Hawaii's Leaders.
Kari narrates in this short interview why and how they decided to take on a cause greater than doing business and making money, in hopes of reciprocating the support the community has given to them. This gave birth to Greater Good Inc. in 2005.
Meanwhile, Evan talks briefly about the book's content and shares the seven recurrent themes that prop up from the Greater Good interviews that constitute the book's core values.